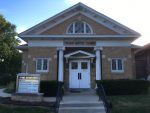 Description
We exist to bring glory to God by serving our community through the Great Commission. We believe this is the greatest privilege a person can have, so we take our mission seriously.
Jesus Christ gave His Great Commission right before He ascended into Heaven. His commission was this: "make disciples of all the nations" (Matt. 28:19–20). He listed three activities we must do in order to follow His command of making disciples: (1) we must go into the world to find prospective disciples; (2) we must baptize new disciples in water as a symbolic act of their allegiance to Christ; and (3) we must teach God's Word to our new disciples. This is what Calvary Baptist Church desires to do in the community of Belvidere. We want to bring people to Jesus Christ for salvation and begin training them as students who can continue the process by making their own disciples (II Tim. 2:2). We are so excited about this tremendous opportunity!
Calvary Baptist Church has a long history and has served Belvidere and Boone County for more than 150 years. It was founded in 1865, but has been at its current location since 2009. So much has happened through the years, yet one thing always remains: Calvary Baptist Church is committed to accurately preaching and teaching God's Word. We encourage you to come be a part of this rich history and join us in our endeavor as we make disciples and sound forth the Gospel of Jesus Christ!