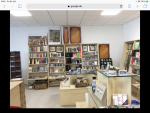 Description
This KJV preaching church started in 2000 with English services for the US military and German nationals.
When the US Army pulled out of Heidelberg in 2011, the services switched to German, but to this day the Sunday night English Bible study remains.
In 2013, the church purchased and renovated its own building at the current location.
In 2019, the church was turned over to Stefan Heberling, a German national who went through the local church Bible Institute here.