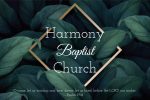 Description
Harmony Baptist Church is a conservative, family-integrated, independent Baptist church serving the DFW metroplex. We are a house church pastored by Lane Mitzelfelt, who is working towards his doctorate in theology at Faithful Baptist College. We use the King James Bible and sing traditional hymns and spiritual songs during our worship service.
We meet on Sunday mornings at 10 a.m. for worship and enjoy a fellowship meal after the service.
On Wednesday evenings we meet at 7 p.m. for a Bible study.
We would love for you to join us!