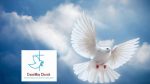 Description
The Bible says we should remove ourselves from any idols. Any other message that is preached which is not 'The Lord Jesus Christ and Him Crucified' is another Gospel and another Jesus.
The Bible says in 2 Corinthians 6:16-18 "And what agreement hath the temple of God with idols? for ye are the temple of the living God; as God hath said, I will dwell in them, and walk in them; and I will be their God, and they shall be my people. Wherefore come out from among them, and be ye separate, saith the Lord, and touch not the unclean thing; and I will receive you. And will be a Father unto you, and ye shall be my sons and daughters, saith the Lord Almighty."
God will never send anyone to listen to ANY so-called preacher preaching anything other than what the Apostle Paul preached: The Lord Jesus Christ and Him Crucified!
We love you and are praying for you and your families.
God bless you and may He Open your eyes and ears as He has ours and bring you back to your FIRST LOVE.