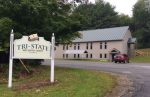 Description
The Word of God is central to everything that is done at Tri-State Bible Baptist Church. Using the King James Version of the Bible, the Scriptures are preached and taught in every service.
You and your family are welcome to the services here. We stress the development of faithful disciples of the Lord Jesus Christ and the building of godly families as taught in the Word of God. In addition to the regular worship and preaching services, there are ministries for children and teens, as well as nursery provided for every service.
You can find out more about what we believe by clicking here.